How Could Changes to Twitter Affect Your Business?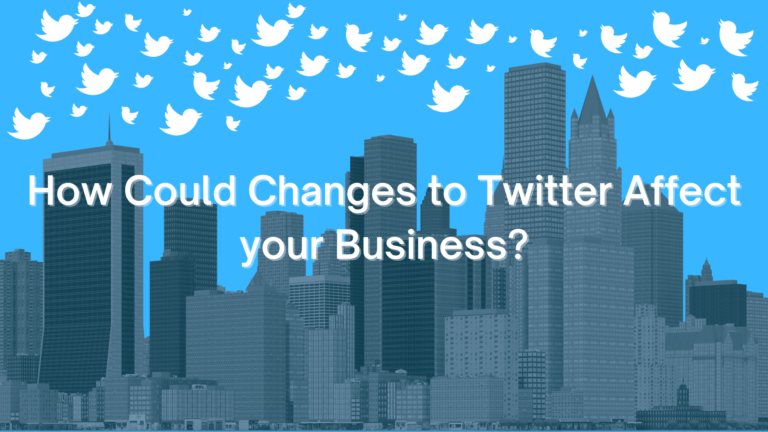 Twitter has long been a popular platform for businesses, who use it to build their brand voice, keep up with industry news and connect with potential consumers. However, the app could soon be changing with the implementation of new leadership. Earlier this year, Tesla and SpaceX CEO Elon Musk began talks to become involved with Twitter. As the new owner of the company, there have been a number of proposed changes that could impact how businesses interact with the platform.
Keep reading to find out how these potential changes to content moderation, verifications and subscriptions could affect how your business conducts itself on Twitter.

Twitter for Business
Twitter has proven to be a useful tool for businesses to engage with audiences and market to potential consumers. The platform boasts benefits such as the ability for businesses to stay in-the-know about industry trends and expand their reach.
Brand involvement is incredibly important for Gen Z and younger millennials, and Twitter gives companies the ability to start and be included in conversations.
Twitter for Business boasts a 62% uptick in ad recall and a 13% increase in brand awareness for the businesses that use the platform. Having a strong presence on the app lets consumers know that your business wants to take part in both cultural conversations and industry dialogue.

Elon Musk and Twitter
Elon Musk began expressing interest in the platform earlier this year. Beginning in January, Musk was buying Twitter shares almost daily. In March, he was weighing the options available to get involved with the company, including joining Twitter's board or making it a private company. In April, he offered to buy the company and Twitter agreed to a $44 billion deal by the end of the month.
The deal was put on hold in May, and Musk tried to back out of the agreement in early July. However, by mid-September, shareholders for the company approved his bid to buy. The deal was finalized on October 27.
Proposed Changes and Their Effects
Now that Musk is the owner of Twitter, he has begun to propose some changes that he would like to see within the company and on the app itself. Although some changes, like the ability to edit Tweets, would apply to all Twitter users, there are suggestions that could impact how businesses use Twitter.
Moving Away from Ad Revenue
Firstly, Twitter might adjust its use of ads. Currently, the company receives 90% of its income from advertising, which Musk has expressed a desire to shift away from. Businesses that use Twitter as a means of advertising may want to cut back on their use of the platform given the lack of clarity concerning the direction Musk plans to take the company and its reliance on advertising.
In the shift away from ads, Musk has considered the possibility of introducing subscriptions. Although he initially proposed having a "pay-to-tweet" method before the deal to buy Twitter was finalized, he has since said that he would likely only charge government or business accounts. That being said, if Musk does go ahead with charging a fee to have a professional account, businesses may want to reevaluate whether the following and engagement they get on the platform is worth a fee.

The Blue Checkmark
Twitter currently has an opt-in subscription service called Twitter Blue that offers the ability to bookmark folders and to "undo" tweets. However, Musk has considered changes to this model, such as lowering the monthly fee and allowing every paying subscriber to get a blue checkmark.
Traditionally the blue checkmark, or verification, means that an account is "authentic, notable, and active" according to Twitter's Help Center. The blue checkmark is a way to signal to Twitter users that an account is legitimate — often given to celebrities, businesses and notable public figures.
Musk implemented a new system of allowing subscribers to pay $8 a month for the blue checkmark but the program has since been halted due to the increase in impersonation and parody accounts spreading misinformation. Insulin producer Eli Lilly fell victim to a fake account posing as the company and tweeting that insulin "is free now." The tweet caused a 4.5% drop in its stock and the official Twitter account had to issue a clarification hours later.
Decreased Content Moderation
Regarding content, Musk has been clear that one of his main goals with Twitter is to allow it to act as a public forum, with less censorship and fewer speech restrictions. This could lead to an increase in the spread of misinformation on the platform. If you use Twitter for your business, you may have to be more vigilant about the validity of relevant news you see online.
Also, Musk has made it a mission to significantly reduce the number of bots on Twitter. Although bots exist on almost every social media platform, a fewer percentage of those accounts are removed on Twitter compared to Instagram or Facebook. Expect to see a decrease in your follower count as technology to eliminate bots is implemented.

Uncertainty Remains
Musk's ownership of Twitter is still fairly new, so there is no telling which elements will actually be implemented, or the timeline of new changes being introduced. Keep an eye out for any updates on the platform and be prepared to adapt your business' use of Twitter accordingly.