How to Make Your Brand's Social Media Digitally Accessible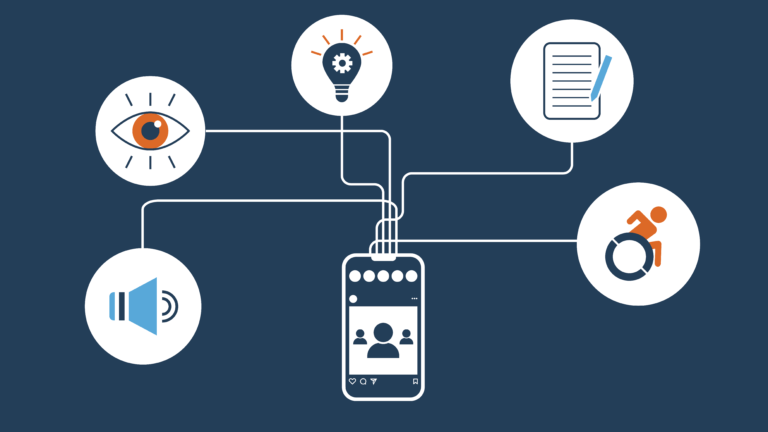 Illustration by Nia Freeman
Social media is one of the primary tools to communicate with your brand's target audience. With around a quarter of all Americans qualifying as having some type of disability, it is important to make sure the content you produce is accessible to all individuals. This is advantageous as it will both expand the scope of your audience and make your brand more inclusive of all customers and employees.
The ADA (American with Disabilities Act) has crafted digital accessibility guidelines. However, these guidelines were published in 1990, prior to the advent of modern-day social media platforms. Because of this, many advocacy organizations have compiled social media-specific toolkits for creating more accessible content.
Using these simple tips, your brand can drastically improve its social media accessibility and offer content that is inclusive for all consumers. We've compiled many of these tips to create a comprehensive guide for accessible content based on the format it is delivered in: copy, creative, and strategy.
Copy
Accessible copy ensures your audience is able to understand the key message of your content. One key strategy to make sure your copy is accessible is to avoid acronyms, text lingo and emojis. Implementing these strategies, along with using proper punctuation, can make your copy easier to read and understand for all readers. Also, hashtags included should use title case (the capitalization of the first letter of each word) to make it more readable. These hashtags should be included at the end of the post.
A large part of accessible copy is actually the image description of whatever creative content it is paired with. Whatever the graphic included is should be indicated at the beginning of the content with the prefix [PIC], [VIDEO] or [AUDIO]. This allows for screen readers, a software program meant to read-alt text aloud, to parse the content when reading it to its user.
Many social media sites like Instagram, Facebook and LinkedIn offer alternative-text box options to describe the visual content. You can also add descriptions at the bottom of your caption with the hashtag "#Accessibility Description." These hashtags can make accessible content easier for users to find.
When writing image descriptions, first explain the general idea of the picture and what it is conveying. Then, describe any smaller details of the content. If the content has words in a graphic or overlaying a photo, write out this copy word-for-word in the alt-text.
Creative
Whether it's a graphic, photo or video, it is important to make your content viewable for everyone.
One way to do so is check that your visuals have at least a contrast ratio of at least 4.5:1. You can check your color palette with this color contrast checker. Also, both photos and graphics with words should be left-aligned to make reading easier.
For video and audio content, making sure closed captions are included is important. Also, it is important to note that subtitled videos are not the same as captioned videos. Taking the time to learn the difference between subtitles and captions can help you make your content more accessible.
Strategy
Encourage inclusion through accessibility awareness throughout your business. Fostering an inclusive community in the workplace is the first and most important place to start. There are so many resources that provide comprehensive strategies on fostering an inclusive work environment that exist for free online.
Many employees aren't aware of the different accessible social media features offered or the importance of producing accessible content. Take advantage of different features offered by each social media platform, educate your team and integrate it into your strategy and brand guidelines fully. Take time to learn different accessibility documentation by platform linked at the bottom of this article.
How We Can Help
1893 Brand Studio offers experienced campaign strategists, graphic designers and photographers who are trained in these tips and can help your business improve its social media accessibility.
Learn more about producing other digitally accessible content for greater brand awareness here.