Become the Big Fish: How to Make Your Business Stand Out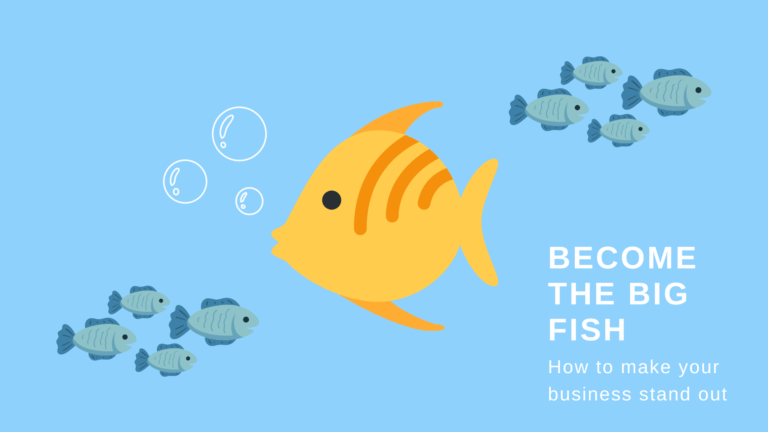 It can be hard to keep your business afloat while swimming amongst a sea of competitors. There are several ways that you can make yourself stand out. Researching the competition and your target market, establishing a unique presence and paying attention to your customers will allow for a thriving brand. With these key tips, you will not only maintain a returning customer base, but win over new ones as well.
Research

The first step before beginning to make changes to your brand should be to understand everything about your business, your competitors, and your target audience. Take the time to analyze the market: are your services and products worthwhile for consumers to pursue? How about your competitors: what are their strengths and weaknesses? Research what is going right, and do not be afraid to take inspiration from the successful aspects of those around you. Find out what competitors may be struggling with, and take the time to perfect those aspects of your brand. 
What about the clients? Make sure you understand your target audience and be seen where they are looking. Put yourself into the mind of your prospects, and understand their needs.
Consistent Branding
Consistent branding makes you memorable. Find your unique selling proposition (USP), and make sure you stick to how you present it. Consistent color scheme, logo, and core values attract customers and have a better chance of standing out. It may be helpful to invest some time into creating a brand strategy, or a brand guide.
Social Media and Internet Presence
In today's day and age, it is practically impossible to compete with other brands if you are not accessible online and on social media. Perfect your website, and find ways to increase social media engagement. If you have a specific target audience, use platforms that will cater to those audiences. For example, younger local audiences might be attracted to Instagram and TikTok platforms rather than others. It is smart to cater to your local audience, but make sure to value accessibility for larger and more diverse audiences as well. 
Along with an aesthetic and concise online presence, find ways to turn visitors into customers. You can utilize giveaways, loyalty programs, or advertise incentives to lock people into your brand. 
Customer Service
Good customer service will also help you to maintain a reliable customer base. Ensure that you are paying attention to customer reviews, replying promptly, addressing any prevalent issues and taking accountability when needed. Know your product, and maintain a positive attitude when dealing with customers. Good reviews will rank you higher in search engines, and actively listening to your customers when replying will foster more personal connections. 
Be active in the Community
Facilitating an environment that local individuals feel comfortable in is the key to attracting people to your brand. This is an easy way to establish a positive reputation and establish meaningful connections. Partnering with other local businesses, such as offering flyers or samples in another place, may increase engagement. You can also sponsor local sports teams, organize charity events, or volunteer with your employees. Making yourself seen in the community is a great way to draw attention.
Need Help?
Here at 1893 Brand Studio, we offer marketing tips that can be specialized to your brand. Reach out to our talented team of campaign strategists for a more personalized approach to make your business stand out. To learn more, check out some of our services and case studies.