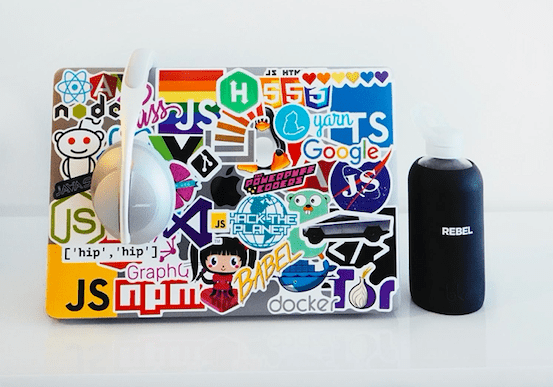 Using logos to enhance your advertising strategy
By Anwar Boutayba
What's better for you advertising strategy? An aesthetically pleasing logo or an incredibly elaborate mission statement? 
The aesthetically pleasing logo is the obvious winner because who wants to read thousands of words?
What's the point of a logo?
A logo allows for your organization's brand essence to be summarized in one image. That one image can then be plastered onto multiple products and sites to further advertise your brand.
However, the true beauty behind a logo is its simplicity. A busy logo is often ignored, hence why 85% of brands use only one to two colors in their logo design.
Color and logos
The act of choosing a color or set of colors for your brand's logo is no easy task. Emotions are closely linked to colors: red can incite anger, blue can represent freedom and black can evoke feelings of sophistication and power. In short, the creation of a logo is an exact science – one that can severely impact brand image.
Color can additionally create a link between consumers and your brand, which is why a large majority of people can recount brand logos that feature certain colors. But a logo is not just a color. It is a combination of colors, words, images and more.
Other Components of Logos
Color is the introduction to a brand's logo. Lettering and imagery is the focal point to a brand's logo. A company cannot simply represent its brand just with colors – image and shape are other key pieces of logo design.
These two respective brands above, BMW and Marvel, use color and shape to their advantage. BMW, by creating a circular logo, conveys unity and dependability because circles (and shapes in general) also incite emotional responses.
According to Nuanced Media, squares and triangles "suggest stability in more practical terms and can be used to convey balance." Even the use of vertical and horizontal lines represents strength and tranquility.
However, your logo should not be an unorganized combination of shapes and colors. In fact, before drafting a logo, you must have a strong idea of what you'd like people to think about your brand. If you are a local skincare business, it's probably not the best idea to have a possessive, inorganic logo that is devoid of color. For these reasons, drafting a logo requires careful planning and consideration.
Advertising strategy: steps to creating a logo 
Understanding your company: What do you sell? Who do you sell to? Do you potentially need more than one logo (A bigger one for web content and a smaller one for an app)?
Being comfortable with experimentation: A boring logo is a bad logo. Take time to experiment with different fonts, colors and shapes.
Asking for help: Creating a strong and effective logo is not easy which is why you should consult agencies around your area. Hint: 1893 Brand Studio can help you with exactly that.
Drafting, drafting and more drafting: Most logos that are instantly recognizable today took several rounds of trial and error to create. Do not be afraid of having multiple creative logo drafts.
Simplicity: Need I say more?
Versatility: After all these rounds, your logo should be able to be used across your brand's social media channels, websites and merchandise.
Creating a logo takes hours of research and preparation, but the end-result is something that will make potential and future clients go: "Oh I know who they are."

With our years of graphic design experience, the 1983 Brand Studio has designed numerous effective logos for businesses and organizations around the Chapel Hill/Carrboro area. Let us help you create yours today.