Tips and Strategies for Starting a Small Business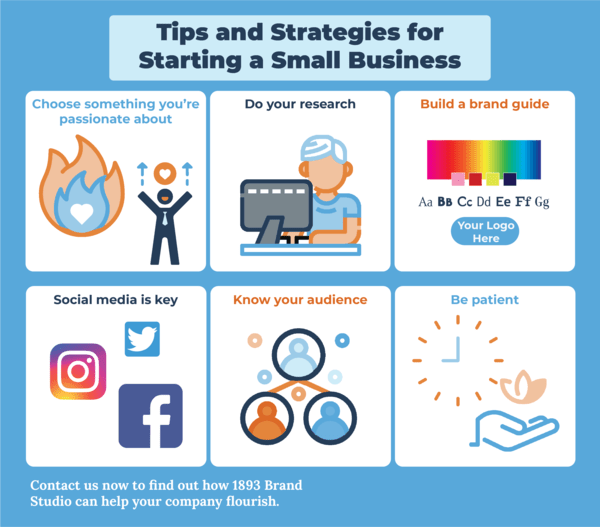 People assume that you need undivided attention, thousands of ideas, contacts, and an unending supply of materials in order to establish a small business. Have you ever considered establishing your own small business but believed it would be impossible to balance work and life, or perhaps doubted yourself, not knowing where to begin?
Side hustles are in right now, and many of you are leading the charge in developing the next generation of businesses. We're here to encourage you to take your new business idea to the next level, whether it's the result of all your recent time at home or simply an idea you've had for a long time, waiting for the ideal opportunity to launch.
We know that everything involved in creating an actual business can be a bit intimidating, so you'll want to break it down and take it step by step.
Here are six tried-and-true ways to set yourself up to grow your side gig into a legit small business that will help cultivate success.
Choose something you're passionate about

Do your research

Build a brand guide

Know your audience

Social media is key

Be patient
Choose Something You are Passionate About
Don't choose something simply because it will make you wealthy or because it is 'affordable.' Choose something you are enthusiastic about, such as a hobby or a skill that you possess. Put simply, you are more likely to stick with something you enjoy if you choose something you enjoy. This doesn't mean you have to stick to just that one item; feel free to add as you see fit and watch your shop expand.
Do Your Research
It's a good idea to have a starting point to work from. Know your market and your competitors. Consider how you can set yourself apart from other products. Would it be the different offers, unique label designs or do you add something unique to your product?
Secondary research is the key to boosting your small business; this includes industry news, trend reports on your company and product or even marketing statistics in general.
Another great way to begin your research is with a small research group or online forum where you can gauge consumers' perception of your brand and company.
Build a Brand Guide
Fostering a consistent appearance and feel for the brand you're creating will help take your business to the next level. You should use the same fonts, colors, and overall design style from your logo to your website and social network feed.
Don't know where to begin? Look for inspiration from your favorite brands, and make a note of what you like and don't like about each of their styles. You can then start curating your own brand's style by defining fonts, colors and logos, and making sure they are consistent across all of your work.
You'll also want to make an official style guide file (it can even be a Google doc!) where you can list and remember each of these options.
Pro tip: Reach out to a graphic designer in your network and see if they may be able to provide any tips or advice on creating your style guide, or better yet, actually help you make one.
Social Media is KEY
As society progresses into the digital age, people are increasingly using social media to make purchasing decisions. Joining the social media dialogue is a great technique to get someone's attention.
Are you familiar with all of the amusing TikTok songs? Take advantage of this!
Make sure your content is clean and uncluttered, and if you want to stick to a particular aesthetic, experiment with different angles and edits until you find what works best for you.
Short live-action films are usually entertaining, as are props from the dollar shop. Including these in your photographs or video backgrounds gives a splash of color. Since many are turning online to shop via social media advertising, this is a huge part of running your business.
Be Patient
Patience is a virtue, we know this. But when starting a small business, patience is crucial. It's perfectly fine if you don't start with 100 orders. It may take months for an order to arrive but never lose hope.
Social media is also a great tool; advertising it to friends and family, posting interesting product photos—anything to catch someone's eye and make them stop to read.
Know Your Audience
With the amount of labor that goes into it, starting a small business may appear to be a difficult endeavor at first. It may take some effort to discover the perfect audience, but once you have one individual talking about your company, it will grow.
At 1893, we have all the skills and assets in order to help grow small businesses. Contact us now to find out how 1893 Brand Studio can help your company flourish.
Article written by Gabby Torres with graphic designed by Nina Scott