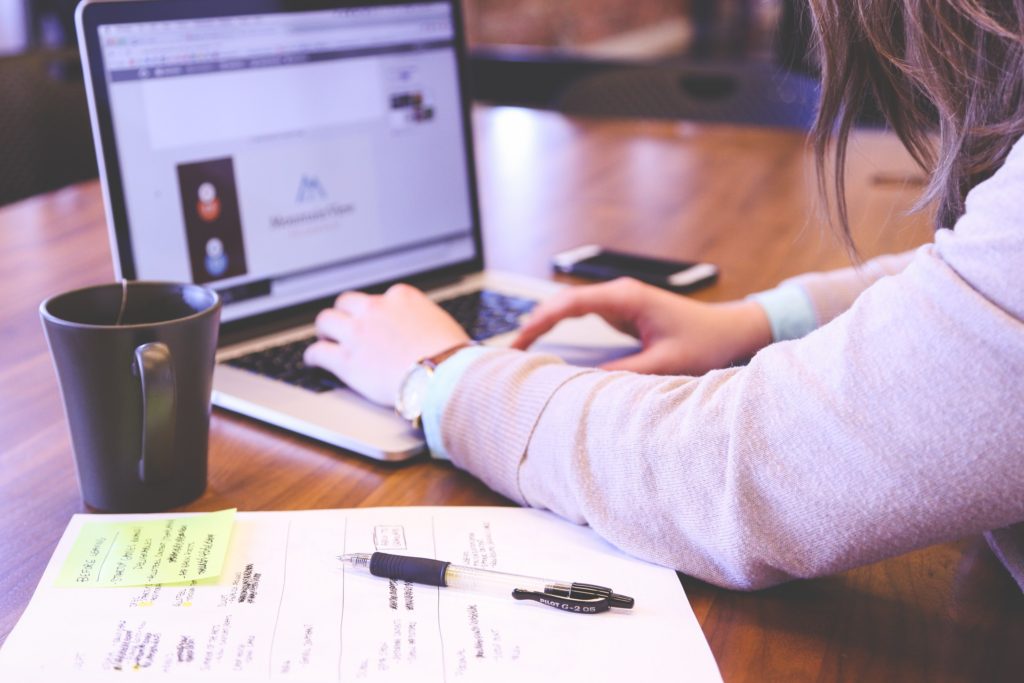 You may be wondering: What is content marketing? Content marketing is a type of marketing that entails the creation and sharing of digital content. This content attracts an audience of potential customers and drives interest in a company's services without directly advertising it.

Without a solid content marketing strategy, search engines wouldn't have any means to index your website so that it is included in related search results. The more updated, relevant and appealing your content is, the easier your website will be to find.

Your content should deliver information in a clear and powerful way that engages your audience, tells a story and conveys the value of your products or services. It's important to have well-crafted content on your own branded website so your audience will frequently refer back to it as a reliable resource.

Quality content generates more traffic and more lead conversions, and it improves SEO and brand loyalty.

There are various types of content marketing strategies. They all fall under the two main umbrella categories of content marketing channels: owned and paid content.

Owned Content Marketing
Owned content marketing means your company has complete control over content and the channels on which it's posted.

Knowing your target audience is important to ensure your brand reaches the right people. Your target audience generates the growth of your brand or company. They are the people that are most likely going to take interest in your product or service. The more you target them, the more successful your company will be.

Some examples of owned content marketing include web and blog content, organic social media content, email marketing, graphic design and video.

Web and Blog Content

Websites and blogs are the most successful type of content marketing channels to include in your marketing plans. According to IZEA, 60 percent of marketers said their company's blogs were the most effective marketing channel for their brand.

Websites and blogs can include written content, graphics, video and more.

Visual content is most appealing to users, but written content provides stronger SEO so that your company will pop up when people search for the products and services you offer, which leads to higher rates of customer acquisition. The strongest blogs and websites include a mix of visual and written content to create an entertaining and SEO-friendly experience.
Social Media

Good content is key to producing a strong organic social media strategy.

Organic posts on social media profiles can be effective if tailored to your audience and targeted correctly on the appropriate social platform. The type of content you post should depend on the platform you choose, but it should always be content you've created.

For example, Twitter would not be a good content marketing channel if you are looking to post a lot of text, due to its limited character count. And a video that requires sound would be better suited to YouTube or Instagram than Facebook, where users watch 85 percent of videos without sound.

In addition, certain platforms reach different target audiences. People of all ages tend to use Facebook, but Instagram, Twitter and Snapchat tend to have younger users. When posting content on social media profiles, you must evaluate beforehand the type of audience you want to reach and the best platform suited for your content.

Email Marketing

Email marketing is the second most effective content marketing channel ranked by companies, according to Ascend Research. Email marketing involves sending out newsletters, updates, events and more to subscribers, keeping them updated on your company's services and capturing their attention.

The biggest challenge of email marketing is convincing people to give out their email addresses. Brands must give individuals an incentive to give their emails out. One example of an incentive is offering a discount or rewards to those who who sign up through email.

You can also attract potential clients to sign up for your email list with a lead magnet. This could be a consultation, checklist, ebook, video, virtual course or another type of product or service. This added value compels users give you their email rather than just asking them to subscribe.

This is a common tactic in email marketing because it rewards customers immediately by giving them something in return when they share their email. In psychology, we call this "norm of reciprocity".

You must give people the option to subscribe — and unsubscribe — to their email list. If people don't have the option to unsubscribe, they will get frustrated and may cause reputational damage to your company. The CAN SPAM Act provides a set of rules and regulations for commercial email that give people the right to refuse public messages. Having a mass influx of spam emails without the option to subscribe can be a major offense under the CAN SPAM Act .

Graphic Design

Compelling visual communication that doesn't take long to grab the attention of your audience is a powerful content marketing tool. Infographics are an example. The most effective graphic design appeals to the viewer and tells a story in a short period of time.

Video

Generally, video is an excellent resource for content marketing and is visually appealing. Videos also lead to higher conversion rates. According to Leighton Interactive, brains process video content 60,000 times faster than text. Videos evoke more emotion and cultivates a sense of connection amongst people.

According to Forbes, videos contained in emails have a 300 percent higher click rating than emails without videos. Further, landing pages with videos have an 80 percent higher conversion rate than landing pages without.

Companies' YouTube channels, websites, social media or email newsletters are all effective platforms for sharing video content.

Paid Content Marketing
Paid content marketing is used to promote owned content and brands, primarily through social media channels.

Paid Social Media

Paid social media marketing involves promoting social media posts or posting social media ads. Ads on social media are effective because they don't typically interrupt users' other activities, making for a smooth user experience.

Common methods of paid social media marketing could include:

Instagram Ads
Promoted Pins on Pinterest
Facebook Ads and Promoted Posts
Promoted Tweets
LinkedIn Sponsored Content
Instagram ads.

Instagram has an active monthly pool of one billion users, so there are plenty of individuals to target with visual sponsored content.

Instagram ads are user-friendly because when users scroll through their feeds, the ads are are seamlessly integrated and don't interrupt their experience. Instagram ads look like any other post, aside from a "sponsored" label, and it's very easy to scroll past them.

Promoted pins on Pinterest.

Advertisements on Pinterest tend to appear on the feeds of targeted audiences based on the relevance of their interests.

Something unique to this type of marketing is that once people have saved those pins, it increases the shareability without having to pay extra. The users in this case promote the sponsored pin without even knowing it.

Facebook ads and boosted posts.

Users can boost existing Facebook posts or create new ads, but either way, they can target the post to a specific audience based on key demographics. This will ensure that the ad will appear to that audience on their news feed which, if seen by the right people, are likely to become future customers.

Promoted Tweets

Similar to Facebook ads, Twitter ads target key demographics and appear in the feeds of people who are more likely to take interest in the product or service.

LinkedIn sponsored content.

LinkedIn paid content appears on specific viewer's feeds and is an effective marketing strategy to boost connections or followers that will see your posts. LinkedIn is a social networking site that boosts job connections and is mostly for professional use.

"Just 20 percent of connections see the content posted by a brand," according to IZEA, so promoting a regular post can be an effective way to reach more users.

How 1893 Brand Studio Can Help With Your Content Marketing Strategy
Overwhelmed by the idea of planning and executing your own content marketing strategy?

The 1893 Brand Studio is an excellent resource when it comes to branding and marketing for companies. With an extensive amount of experience in content marketing, our student-run agency aids local organizations in promotions and advertisements within the Chapel Hill area.

The Brand Studio's services include graphic design, writing and reporting, social media marketing, photography, and video. Past work includes:

The 1893 Brand Studio team ensures its clients' content marketing exceeds its potential. Send an inquiry to get more information and optimize your company's online presence.
Howells, Charlotte. "Why Do I Need Content for My Website?" Write My Site, Hillside Enterprises Ltd t/a Write My Site, 23 July 2015, www.writemysite.co.uk/why-do-i-need-content-for-my-website/2015/07/23/.
Kucheriavy, Andrew. "Why Content Is the Most Important Thing on Your Website." Intechnic, Intechnic Corporation, www.intechnic.com/blog/why-content-is-the-most-important-thing-on-your-website/.